"YOU SHALL BE MY WITNESSESˮ


Teaching Seminar by
Rev. Dr. David Smethurst
Global Missionary and Church Trainer.
He came to Gloucester in 2012
ALL CHURCHES - GLOUCESTERSHIRE AND WIDER -
WERE INVITED TO THIS SPECIAL WEEKEND SEMINAR
hosted at Brunswick Baptist Church, Gloucester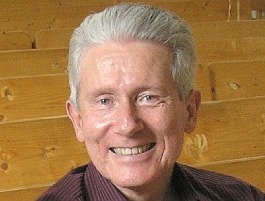 We had a wonderful weekend, where we learned more about reaching out to our friends, families, colleagues, acquaintances and strangers. David was a motivating speaker with an inspiring message. This man has travelled the world as a missionary, as a trainer of churches, and chaplain to the Olympic Games.

Session 1: How to be a Persuasive Witness.
Session 2: How to be an Effective Fisherman.

Session 3: Winning your Family to Christ.

Session 4: Reaching your Personal Friends for Jesus.

Session 5: Using the Gifts of the Holy Spirit.

We finished at about 4.30pm
---
"Doing Something Great for Godˮ - David Smethurst
Smethurst Ministries
Rev. David is an international missionary, supporting 55 orphanages (about 5,500 children) in countries such as Ukraine, Russia, Latvia, Israel, and so on.
Sport in his blood
David comes from a sporting family. His father was light middleweight boxing champion in South Africa, and close relatives have been involved with rugby and other sport. The Lord led David to be Chaplain to the Olympic Games in 2012, and formerly in 2000, 2004 and 2008; also World Cup Rugby and Paralympics. He has led many athletes to Christ.

David is on the left, with some Olympic athletes from Latvia.
---
What do people say about David's ministry?
"David is an incredible evangelist, an anointed speaker and teacher. We look forward to his visits and are always blessed by his ministry. He will have you laughing, crying, and in the midst of it challenge you to go deeper in your relationship with God and inspire you to share your faith with others. He is an anointed man of God and we commend him to you. I've no doubt you'll have a great time with David. Every blessing.ˮ
Cate Hall, Co-Pastor, Trinity Life Church, Royston, Herts.

"David is one of those people who has an ear to what is happening in heaven whilst at the same time having his feet firmly planted on earth. He is full of stories of how God us working powerfully in the lives of people, through those who are available. You will be encouraged and inspired to be a better witness for the Lord as you listen to Dave.ˮ
– Gareth Benton, Minister, Kings Church, Portsmouth.

"Dave Smethurst has spoken at our church a few times and has been a long time friend in the ministry. Every time Dave comes to speak, he has a fresh word and seems to get right to the heart of people. He relates well to all ages and is such an encourager. Dave will come with a heart to be a messenger from God, prepared to serve the vision of your church and ALWAYS with the compassionate heart of Jesus.ˮ
- Darlene Partin, Next Generation Pastor, Destin, Florida.

"We have met him and heard him speak. There aren't many speakers who last in the memory the way David does. Hear his stories, catch his style and catch his smile.ˮ - L.T., Deacon, Brunswick Baptist Church.

"Evangelist David Smethurst is a genuine man of God with marvellous testimonies of how God works. My wife and I have heard him and also met him personally on occasions. I recommend his ministry wholeheartedly.ˮ/span>
– YouTube comment.

"What a fantastic weekend we just had with David Smethurst at North Shore Christian Centre! With a wonderful passion for people, there's no doubt that everyone will enjoy David's ministry.ˮ - North Shore Christian Centre Chatswood, NSW Australia.

"Pastor Dave Smethurst is a man with a clear vision of the destiny God has called him to. He has been faithful to that call, and has a message crafted from the very heart of God, a message honed through seasons of fire that he has lived through.ˮ
- Rev. Dr. Francis Khoo


Covenant Vision School of Ministry, Singapore.

"Reverend Dr David Smethurst's Latvian mission with a small team of five has once again borne much fruit for the Gospel of Jesus Christ. Many needy people made a positive commitment to the Lord Jesus Christ during this mission.ˮ
---